What is HIP?
"We are HIP, a new breeze carrying the seeds of peace." This is our motto. The word "breeze" means "an invisible and unscented wind blowing gently." We are willing to work in the background, sending a message of peace to the hearts of people. Hiroshima Interpreters for Peace (HIP) began in 1984 with 20 members.
Why was HIP formed?
Keiko Ogura, an atomic bomb survivor, is the founder of HIP. In 1983, she first gave testimony in English as an atomic bomb survivor in a mock trial called "Tribunal Against First Strike and Mass Destruction Weapons in East and West," held in Nuremberg, Germany. Meanwhile, Hiroshima drew considerable attention in the world. Later, Keiko worked as a coordinator in Hiroshima. But she realized she needed a group that could support visitors from abroad, including journalists and peace activists. As a result, she formed HIP in 1984 as anti-nuclear movements gathered momentum in Europe.  From the beginning, HIP has striven to convey the facts about the atomic bombing to people all over the globe, and contribute to world peace and the elimination of nuclear weapons.
Who are HIP?
HIP now has a membership of 220, ranging from teenagers to octogenarians. This includes students, business people, homemakers, retirees, and more. Regardless of their English language ability as interpreters, HIP's members have a passion for "telling the facts of Hiroshima to the world."
What is HIP doing?
HIP offers guided tours of Peace Memorial Park to Hiroshima's overseas visitors. Members hold monthly study meetings to learn about the atomic bombing and peace issues. We often invite guest speakers. During the COVID-19 pandemic, we've been holding online meetings more frequently.
In addition, we act as interpreters for A-bomb survivors. After the peace memorial ceremony on August 6th, we hold a session where survivors share their A-bomb testimonies with participants. Afterward, we facilitate informal discussions with visitors from overseas. In the evening, we float lanterns on the river to console the souls of the victims. And we read poems aloud on the riverbank and have a heart-to-heart talk about peace together.
We also take field trips to historic spots related to war. We've visited the former Naval Academy on Etajima island, the toxic gas production facility on Okunojima island, the former military quarantine station on Ninoshima Island, the Yamato Museum in Kure, the Holocaust Education Center in Fukuyama, and more.
And we visit other historic spots in Hiroshima City. We've been to the former Hiroshima Army Clothing Depot, Mitaki-dera Temple, the former Hiroshima Branch of the Bank of Japan, the Radiation Effects Research Foundation (formerly ABCC) on Hijiyama, and the Ruins of the Chugoku Regional Military Headquarters Semi-underground Communications Bunker.
Lastly, we publish books to help people spread Hiroshima's message of peace. In 1985, HIP put out the first edition of the Hiroshima Handbook, a Japanese-English dictionary which included terms related to the A-bomb and peace issues.
Our publications include:
Hiroshima Handbook, 2nd edition (1995)
HIROSHIMA English Guide (1996)
and Hiroshima Peace Park Guide (2005), HIP's Hiroshima Guide (2016)
If our efforts help even one person to talk about peace, our work will not have been in vain.
What will HIP do from now on?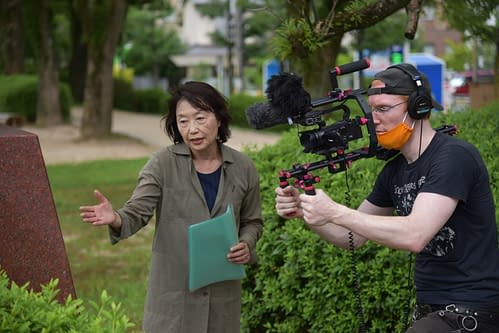 Since early 2020, few foreign tourists can visit Hiroshima due to the COVID-19 pandemic. As a result, we're sharing the facts about Hiroshima and Nagasaki online to reach people around the world.
For the first step, on August 6, 2020, we live-streamed "Live from Ground Zero" on YouTube. The program included a message from Hiroshima and a virtual tour of the Peace Park.
On August 6, 2021, HIP launched this English website. Through this site, we will share useful information about Hiroshima's history and commitment to peace. We will continuously enrich the content from now on, so please visit us regularly!